Storage Evolution and Solutions
Storage Evolution & Solutions
Hi everyone! In today's post we are going to talk about storage, where do the storage technologies come from and where are now. With the growth of internet and it's possibilities, more and more services and applications are used on a daily basis and the storage systems of the Data Centers that provide those services have to keep growing and improving.
The traditional storage method was the Direct Attached Storage (DAS) that consisted in attaching storage devices to servers, having a communication path between them. The connectivity was on a dedicated connection separate from the network so the only way to reach the information contained in the storage device was going through the server connected to it. When a server was running out of drive space a new storage unit was attached to it.
Another solution is the Network Attached Storage (NAS) that is a file-level access storage architecture. This model consists in attaching storage elements to a network so multiple server can easily reach the information contained in the units. With this architecture the servers do not need a directly connected storage unit and it's easier to have shared information systems.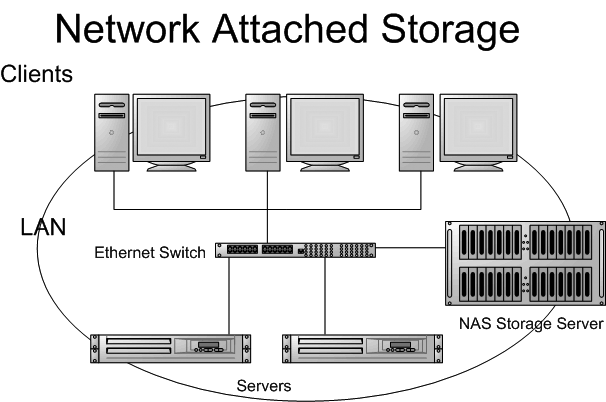 The last technology that we are going to talk about is Storrage Area Network (SAN). Just like DAS, the storage units are connected to the servers but what makes it a better solution is that all the user traffic and the storage data traffic are separated. The servers are connected to the switches using both Ethernet and FiberChannel technologies so the data that needs to go from one server storage unit to another is not using the same technology than the user traffic that is traveling through the data center.
Using different technologies for the two different kinds of traffic and having switches that are compatible with both technologies is the best solution for our Data Center. Shared storage simplifies administration tasks and flexibility because all of the storage can be accessed from the entire network in a fast and reliable way.
SAN also is compatible with a fast and efficient storage replication which provides resiliency to the Data Center and can be crucial for disaster recovery processes.
For its multiple benefits, SAN could be the best choice for a Data Center that requires high availability and an efficient and reliable system that ensures the less possible downtime.
See you in future posts!